Tara Cards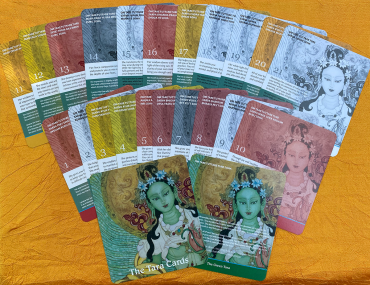 The Tara Cards are available now!
Order

$35
(Price includes domestic media mail shipping, handling, and tax. International shipping is available at an additional charge)
Note: The Order link opens a page on RCWMS.org where you can order the cards. The Resource Center for Women and Ministry in the South is handling orders and shipping.
---
The Tara Cards (sold separately) are a set of 22 cards that are a helpful companion to the book, Tara: The Liberating Power of the Female Buddha. The cards are double sided, with Green Tara on one side and one of her twenty-one emanations on the other. There is also a separate card for Green Tara. Each one has a description of the particular emanation of Tara, her mantra, her praise, and a brief statement about the action of that Tara.
The Tara Cards were developed more than sixteen years ago and have been used by Tara practitioners ever since. Initially they were small black and white cards, and with the help of Claudia Rebola, they became the vivid color cards you will receive. Over the years, people have reported feeling inspired and supported when using the Cards, both in their practice and in their daily lives.

The practice elements on the cards and the longer practices in the book are derived from the same root Tibetan text. The book and the cards offer different entry points into the world of Tara practice. The beauty of her image and the vivid colors of the cards delight our senses, while the book provides greater understanding of all aspects of Tara. Together they enhance our capacity for devotion to her, and support our heartfelt desire to be an expression of Tara in the world.
One way to use these cards is to have a question in mind, randomly select a card, and then see what Tara's message is for you. You might place the card on your altar and do a brief practice. For more guidance, you can open this PDF, Short Practice Instructions for the Tara Cards. To go further, read the corresponding chapter in the book and learn more about what Tara in this form offers you in the moment.
We know you'll find your own creative way to use the cards!